In This Section
CHaD NH East-West High School All-Star Football Game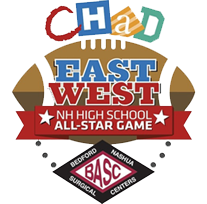 Come out and root for your favorite high school football players and support the children and families of CHaD!
On Saturday, June 27, 2020, CHaD's NH East-West High School All-Star Football Game, powered by the Bedford & Nashua Surgical Centers, will feature the top graduating high school football players from the Granite State. It's an epic battle for the CHaD Cup—and bragging rights—between East & West!
Visit www.chadallstarfootball.org or contact CHaD.AllStarFootball@Hitchcock.org for more information.