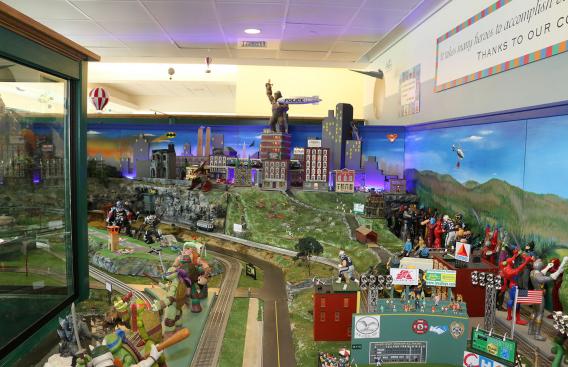 June 20, 2017 marked 25 years to the day that Children's Hospital at Dartmouth-Hitchcock (CHaD) held its dedication ceremony at what was, at the time, a brand new Dartmouth-Hitchcock Medical Center. Staff, patients and other friends of CHaD gathered to mark this special anniversary with both a traditional birthday cake and a very special gift to CHaD – a new train diorama built and installed by the company Prudent Living.
Dr. Keith Loud, CHaD's Physician-in-Chief, began the festivities by highlighting some of the changes that CHaD has seen over the past quarter century. "CHaD has grown into a regional system of care," said Loud. "We now provide care at 14 locations, in 35 specialties to almost 70,000 children each year." Retired neonatologist, Dr. George Little, who is considered a "founding father" of CHaD, shared some insight into the process of becoming a designated children's hospital, and noted that the impetus to form a children's hospital in New Hampshire was the request of providers who were referring patients to Mary Hitchcock Memorial Hospital for specialized care. CHaD is recognized by the Children's Hospital Association (CHA) as a "children's hospital within a hospital." Though there are designated CHaD inpatient units within Dartmouth-Hitchcock, CHaD patients have access to the advanced diagnostic and therapeutic equipment available throughout the system.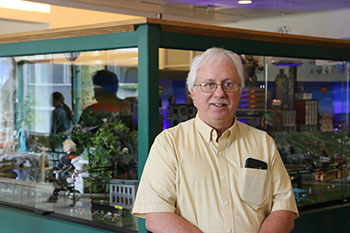 A special part of the celebration, held in the CHaD Outpatient Center on the sixth floor of Dartmouth-Hitchcock Medical Center's Faulkner Building, was a new train installation, which had been completed just hours earlier. The project was brought to CHaD by Paul Biebel, president of Prudent Living in Windsor, V.T., who explained his motivation, "We all know that laughter is good medicine, but if you can add moments of happiness it's a win-win that helps with healing. Toy trains seem to do both." Biebel and his team of artists, electrician and builders volunteered countless hours and raised funds to support the project. "I've never met a train I didn't like," he says. The detailed display features a superhero theme and includes the CHaD HERO starting line; and CHaD Battle of the Badges themed hockey rink and baseball diamond.
CHaD will be celebrating their 25th anniversary throughout the summer, culminating with a special program at CHaD's Annual Storybook Ball, to be held September 23rd at Southern New Hampshire University.