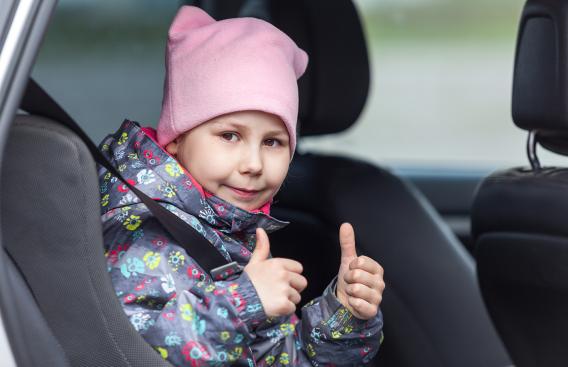 Booster seats are the last hurrah of car seats. Determining when your child should begin to use a booster seat should be based on bone development and maturity. Many booster seats say children should weigh 30 to 40 pounds to use them, however this does not take into account children who are both thin and tall. These children may meet the height requirement, but not the weight. It is better to stick with your current seat until you child has outgrown the height or weight limit. Early transitions to booster seats can result in ejection from the seat in a crash.
The purpose of a booster seat is to position your child so the lap-shoulder safety belt in your car properly fits them. New Hampshire law states that when a child turns seven or is 57 inches tall (whichever comes first) they no longer are required to sit in a booster seat. Most children do not properly fit a seatbelt until they are between the ages of 10 to 12. To work properly in a car crash, belts need to rest on the bones of the body, such as the hips, as opposed to soft tissue.
There are three phases of impact during a car crash:
Impact of colliding with another vehicle or object
Your body hitting the object that is in front of you (seatbelt, dashboard, etc.)
Your internal organs hitting the inside of your body
We often use the phrase "belts on bones" because bones are made to be strong and support force, to jump, and play, and fall and roll. If a 7-year-old weighs 56 pounds, in a car crash at just 10 mph that's 560 pounds of force that is put on a child. With that amount of force on the soft tissues, organs are going to become compressed and the child will likely sustain internal injuries. If children are not in a booster seat, and do not fit properly in a seat belt, there is the potential for them to slip under the seatbelt in a crash, resulting in serious injuries or even death.
When can your child safely use a seatbelt? The American Academy of Pediatrics recommends a minimum height of 4 feet 9 inches tall and the ability to pass the five-step test below. Simply stated: that's when the seatbelt fits them the same way it fits you! Your child also may have a different seatbelt fit depending on the make, model and vehicle type.
Step 1: Does the child sit all the way back against the auto seat?
Step 2: Do the child's knees bend comfortably at the edge of the auto seat?
Step 3: Does the belt cross the shoulder between the neck and arm?
Step 4: Is the lap belt as low as possible, touching the thighs?
Step 5: Can the child stay seated like this for the whole trip?
If the answer is "no" to any of these questions, your child still needs to sit in a booster seat, ensuring both the shoulder belt and lap belt fit correctly for the best crash protection. In addition, all children should ride in the back seat until they are at least 13 as it is twice as safe as the front seat, and their bodies are not yet ready to support the force of an airbag. Development of bone strength is based on puberty not on how big or tall a child may be.
Editor's Note: In an updated policy statement the American Academy of Pediatrics says children should remain in rear-facing car safety seats for as long as possible. This removes any age specific milestone, and instead suggests parents keep their child rear-facing until they reach the maximum weight or height allowed by their seat. The diagram provides these details: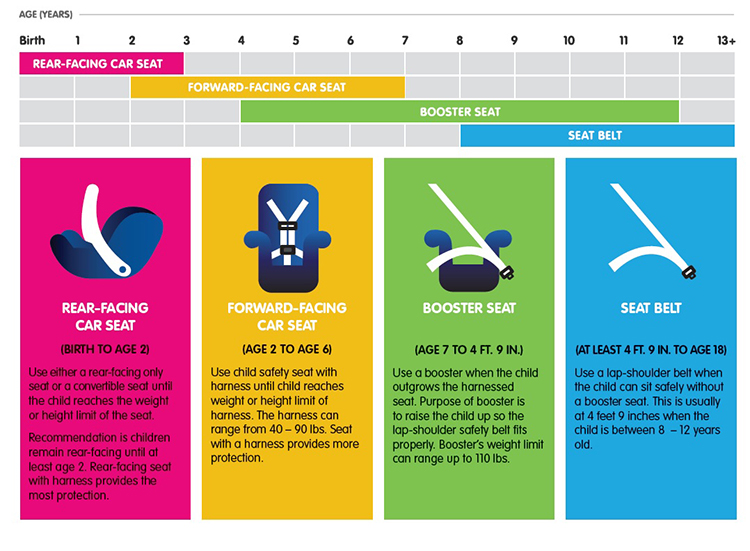 Julie Dietrich, CPSTI, is the New Hampshire Child Passenger Safety Program Coordinator for the Injury Prevention Program at Children's Hospital at Dartmouth-Hitchcock.