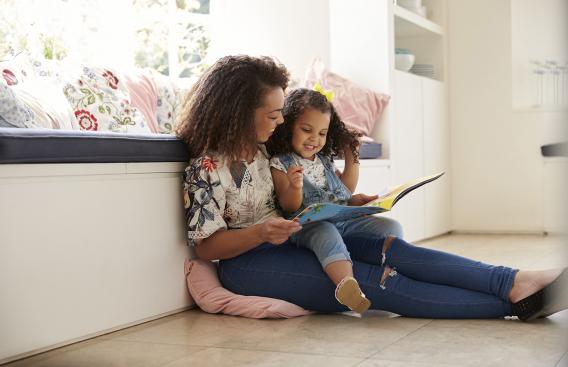 Looking at books, talking about colors and shapes, even making up stories with the youngest of children fosters language between parents, kids and even their health care providers. We know that early literacy experiences with books are the foundation to early learning. Through a national program called "Reach Out and Read," health care providers have the opportunity to distribute books to patients and families to help promote early literacy, assess developmental milestones and demonstrate engagement techniques with your child.
Started in 1989 at Boston City Hospital (today's Boston Medical Center), the Reach Out and Read nonprofit organization has since expanded to 5,800 program sites across the 50 U.S. states providing a total of 6.9 million books annually. The Children's Hospital at Dartmouth-Hitchcock (CHaD) is celebrating our 20th year participating in this program and we distribute approximately 6,000 books each year during well-child visits.
Through this program we are trying to ingrain the practice of using early literacy and assessments of developmental stages in the next generation of pediatricians, while having parents understand the power of words and books—and how they influence family life and health.
And, the results of this program are proven. According to Reach Out and Read's research findings, "Parents are 2.5 times more likely to read to their children; families are 2.5 times more likely to enjoy reading together or have books in the home; and children's pre-school language development is improved by 3 to 6 months."
Here are a few tips for reading with your child:
Make reading fun!
Select subjects that interest them: dinosaurs, mermaids, princesses, trucks, etc. – or let them choose the book.
Sit with your child in your lap.
Let your child turn the pages.
Make it interactive, so it's exciting.
Engage with your child – ask questions about the pictures and story.
Be animated and entertaining – use different voices and be "in character."
Remember that kids like to hear the same book repeatedly.
Make bedtime reading a habit.
For Babies
Use board books to avoid ripping and biting of pages.
Select picture books with few words (babies love pictures of other babies).
Read books featuring songs and rhymes.
Let your baby move around while you read.
For more information about Reach out and Read at CHaD, contact Darcy Emerson at darcy.e.emerson@hitchcock.org.
Authors:
Darcy Emerson is the Family Center Assistant at the Children's Hospital at Dartmouth-Hitchcock (CHaD).
Wendy Murphy, RN, is the Regularly Scheduled Series Accreditation Manager in the Center for Learning and Professional Development's Continuing Medical Education Office at Dartmouth-Hitchcock Medical Center.
Catherine D. Shubkin, MD, is a pediatrician at the Children's Hospital at Dartmouth-Hitchcock (CHaD) and the Medical Director for Reach Out and Read at Dartmouth-Hitchcock.