By

Tom Haushalter

Photography by

Mark Washburn

August 18th, 2017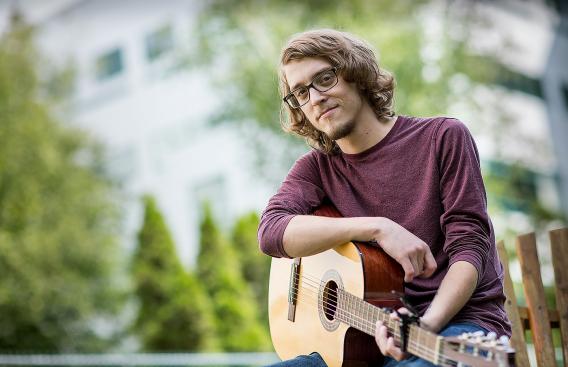 My music is my place, my voice, my escape. I can get lost in my guitar.
Matt Zapel
"My music is my place, my voice, my escape," says Matt Zapel, 27, of Manchester, NH. "I can get lost in my guitar."
Living with Cystic Fibrosis (CF), Zapel knows, offers uncertainty about what his future holds, but some measure of solace finds him when he's writing or playing his songs. "My music gives me something to hold onto. I feel understood. If I can find what I'm feeling in a song, I feel like something understands me perfectly."
His goal is to make an album one day, in part as a tribute to his father, also a musician, who years earlier put his own musical ambitions on hold to meet the challenges of caring for Zapel and his older brother who also has CF. "To be able to carry on my dad's passion," Zapel says, "is a way I'd love to make my family proud."
When he arrived as a patient at the Children's Hospital at Dartmouth-Hitchcock (CHaD) at age 13, he remembers his wonderful first impression of the doctors, nurses and staff. And because he was older than most of his fellow patients, Zapel became something of a big-brother role model to them.
Although he'd visit CHaD six or more times a year, often for treatments that hospitalized him for two-week stints, Zapel says, "I never really minded coming here, because I felt Iike I had a purpose. I had people I knew and who knew who I was, and I couldn't help but feel connected with them and their families at CHaD."
That thread of connection winds through the bond that Zapel has with his doctor, Alex Gifford, MD, in Pulmonary Medicine—a relationship that formed when both patient and doctor were just beginning at CHaD. Gifford was in his residency, and they met one day while he was on a pediatric rotation. As Gifford finished his assessment, Zapel says, "I asked him if he'd chosen his specialty yet, and he told me, 'Actually, Cystic Fibrosis.' And I said, 'Well, maybe one day you'll be my doctor!'"
Over the years, Gifford's down-to-earth approach has been a stabilizing force in Zapel's CF journey, and especially as Zapel grapples with the challenges of adulthood and living with his illness. "Even though his main objective is to take care of my CF," Zapel says, "Dr. Gifford understands that I'm a human being and that it isn't the only thing my life is about, that it isn't the only thing on my mind."
When he turned 20, Zapel transitioned from receiving his care at CHaD to adult care of his CF; a move that meant leaving the familiar comfort of the nurses, staff and patients he knew for the realities of CF's limiting effects on independent living.
One of the first adult patients he met, who was in his 30s and had been in D-H's care for years, understood exactly how scared Zapel was feeling. On the day they met while in the hospital, Zapel says, "we ended up talking till three in the morning, about how he'd gotten through CF as an adult."
Of the friendship that budded from that first encounter, Zapel says, "He was a candle in a really dark place."
In spite of the many complications that his CF causes—in his liver, lungs, intestines, and elsewhere in his body—Zapel focuses on finding his path and some measure of self-sufficiency in the world. "My whole life I've been dependent," he says, "and whether everybody reassures you that you're not a burden, you can't help wanting to be independent."
He's currently undergoing vocational rehabilitation to figure out what kind of work would be suitable for him with his condition.
But CF has placed no limits on Zapel's drive to keep creating music and connecting with people as he performs, whether at an open-mic night or on the street playing for cash, which he loves to do.
While playing on the street—it's called "busking"—he has met number of homeless people. Listening to their stories has made him think about someday helping to provide the programs and services they need.
"I just want an opportunity to show what I can give and give back," Zapel says. "More than anything, that's what I want."